2014 Volunteers

Roses for Valentine's Day



Christmas Dinner...

Museum Fire...

Raffle Winners...

Prescribed Burning...

Officers, New Auxiliary...

Annual BBQ at the Pool

Explorers Display at BBQ Cookoff...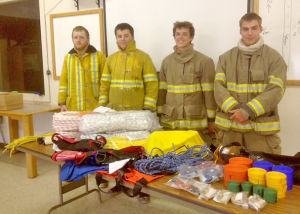 Donations buy rescue equipment.

$5000 Grant to WFD for PPE: Thanks!



Hand-Pumping 4jul2013

Comparing Fire Resistance 1jun2013

Rose for a Mom

Clerk Lisa Guglielmina



Fire 13mar2013...


Training 30jan2013...


New WFD Engine


Chris Prindiville, Mike McMillan

News
25jan
:
Appreciation Dinner...
23jan: Valentine's Day approaches. WFD will be taking pre-orders for flower sales immediately, as we sold out very quickly last year. We are selling Dozens, 1/2 Dozens and singles. All in a vase. Singles come with a cute vase hugging animal. We will also have a Valentine's Day booth at Ace hardware, sales starting 9am on Friday Feb 14th till sold out. Please call Lisa at 623-6156 for prices and ordering. Thank you for your support!
2013
4dec
: Photos from the WFD
Christmas Dinner...
23nov: WFD worked a fire at the Museum Blacksmith Shop, damage limited to roof shingles, photos...
19nov: WFD's Support Group (formerly known as WFD Auxiliary) has announced winners of the raffle, held at the Weaverville Basin 50k run spaghetti dinner on October 4, 2013. Grant and Rebecca Fletcher will be flying over Weaverville and the Trinity Alps, courtesy of pilot Bob Miller.
11nov: Burn ban lifted...
25oct: USFS prescribed burning info...
15sep: Stachetoberfest, a favorite with our own Chief Alvord, is raising funds for the wife, son, and soon to be second son of fallen firefighter Christopher Douglas (CDF Riverside) [info...] You can donate, or buy a T-shirt to help, at the store...
7aug: First Meeting of the Weaverville Fire Department Auxiliary...
24jul: Donations help buy rescue equipment, story...
17jul: State Farm, as part of the company's commitment to being "Good Neighbors" has awarded Weaverville Fire Department $5,000 for purchase of additional Firefighter Personal Protective Equipment (PPE). Thanks, State Farm, for helping our volunteers stay safe!
1jun: It was a full house at the 'Living With Wildfire' seminar at WFD, organized by Carol Fall of University of California Cooperative Extension. Homeowners learned how to reduce wildland fuels and improve the fire resistance of structures. Insurance agents explained company policies. And there were live-fire demonstrations. (announcement... and photo...)
1jun: Calfire suspends burning. story...
12may: Ted Pierce reports: "Mothers Day was a Great success. Thanks to ALL of our Volunteers for helping make this a wonderful day for many Weaverville mothers. A very SPECIAL Thanks to Linda Maddox for helping get the roses organized and prepared for delivery."
11may: Folks suffer burns in Barbara Avenue fire. story...
1may: Welcome back to new WFD Clerk Lisa Guglielmina. Lisa served as clerk previously, from 2001-2004. She replaces Marjie Watkins.
9jan: WFD's bought a new fire engine! Arrives next week.
6jan: Captain Chris Prindiville's off to new firefighter job in Wisconsin. Thank you sir for all your good work! Engineer Mike McMillan's retiring from emergencies and Hazard Reduction, continues as WFD webguy.